Thinking about investing in real estate but not sure where to start? Look no further! Multi-family real estate investing is an excellent option for those looking to diversify their portfolio and potentially earn passive income.
But first… let's make sure we are all on the same page. What is multi-family real estate?
Simply put, it refers to residential properties that contain more than one dwelling unit, such as apartment buildings or duplexes. These types of properties can be a great investment because they often have a higher occupancy rate and can generate a stable stream of rental income.
But before you jump in and start scouring the market for the perfect multi-family property, it's important to understand the different ways you can invest in this asset class—which is exactly what I discussed on Jason O. Myle's podcast, and what we'll be discussing today.
Let's get started.
Active vs Passive Investing: What's the Best Choice for You?
When it comes to real estate investing, there are two main approaches: active and passive.
Active investing involves taking a hands-on approach to finding, buying, and managing properties. This can be a great option for those who have the time and expertise to handle all aspects of the investment process. However, it can also be risky and time-consuming, especially for those who are new to the industry.
On the other hand, passive investing involves entrusting your money to a real estate fund or investment group that handles all the work for you. This path can be much better for those who are newer to the industry and don't have the time or expertise to manage properties themselves. Passive investing can also minimize risk and help you achieve higher returns, as long as you choose a reputable and experienced fund to invest with.
So, which approach is best for you?
Well… if you have the time and experience to manage properties yourself, active investing might be a good fit. But if you're a beginner looking to dip your toes into the world of real estate investing without taking on too much risk or responsibility, passive investing is likely the way to go.
Choosing the Right Real Estate Fund: My Four Rules You Must Follow
If you decide to pursue passive investing, remember to do your due diligence and choose a reputable real estate investment firm. Here are four key factors to consider:
Experience — Look for a firm with a proven track record and a team that has significant experience in the multi-family real estate industry. This will give you confidence that they know how to navigate different market conditions and generate strong returns for investors.



Track record — Verify the firm's historical returns and make sure they are consistent and in line with what you're looking for in an investment. If their track record has been verified by an outside firm, that's the best! It's also a good idea to ask for references or case studies from past investors to get a sense of their experience working with the fund.



Investor-first mindset — Choose a firm that prioritizes the needs and goals of its investors. This means they shouldn't be able to do well if the investors don't. Just ask yourself the question: Is it possible for the firm to do well and me, as an investor, to not do well?


Transparency — A reputable real estate firm should be open and honest about all aspects of their investment process and performance of their ongoing investments. This includes clearly explaining their fees, how they generate returns, and any potential risks involved.
Why KRI Partners is the Premier Choice for Passive Real Estate Investing
If you're looking for a top-notch real estate firm to partner with for your passive investing journey, KRI Partners might just be the answer! With over two decades of experience in the multi-family real estate industry and a long, verified track record of success, our team knows what it takes to navigate different market conditions and generate strong returns for our investors.
But it's not just about the numbers with us. At KRI Partners, we prioritize the needs and goals of our investors, which is why we have a transparent and investor-first approach to everything we do. We believe that when our investors succeed, we succeed.
So why choose KRI Partners over the competition? For starters, our senior management team has extensive experience - they have managed 16,000+ units and have completed 18 deals worth a total of more than $125 million with annual returns of as much as 30%+. Plus, we're open and honest about all aspects of our investment process, including our fees and strategies.
But don't just take our word for it! Check out our verifiable track record and read through case studies from past investors to see for yourself why KRI Partners is a top choice for passive multi-family real estate investing.
Eager to learn more? Click here to watch the full podcast I had with Jason O. Myles!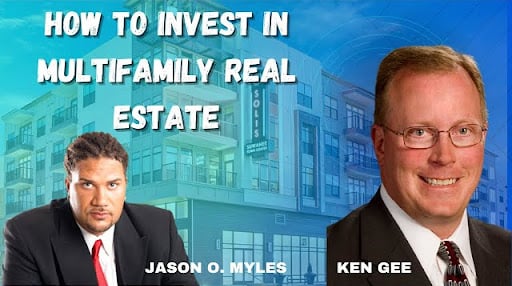 Disclaimer: This is not an offer to buy or sell any security.
All investments involve risk and may result in partial or total loss. Past performance is not indicative of future results. Any historical returns, expected returns, or probability projections may not reflect actual future performance. Prospective investors should carefully consider their investment objectives, risks, charges and expenses, and should consult with a tax, legal and/or financial adviser before making any investment decision.