So you've decided to dip your toes into the world of passive real estate investing, but you're feeling overwhelmed by the sheer number of options available.
How do you know who to trust with your hard-earned money?
Lucky for you, I'm here to help you cut through the noise and find the best multi-family real estate investment firm for your needs. Because trust me when I say this… I've been there.

When I started investing over 25 years ago, there was no internet to bombard me with endless choices and conflicting advice.

I had to learn by trial and error, and sometimes it was EXTREMELY painful — but you don't have to go through that anymore. You can benefit from my experience and avoid the pitfalls that many new investors fall into.

So today, I'm going to share with you the top four things you need to look for when choosing a multi-family real estate investment firm. These are the non-negotiables that will make or break your passive investing success, and I also discussed these rules on Charles Carillo's Global Investor's Podcast not too long ago.

Ready? Let's dive in.

Rule #1: They Have Experience
This might sound obvious, but it's surprising how many people overlook this absolutely crucial factor. You wouldn't hire a plumber who just watched a YouTube video on how to fix a leaky faucet, would you?

Of course not!

You'd want someone who has years of experience and training in plumbing, who can handle any situation and solve any problem. The same goes for passive real estate investing — you don't want to hand over your money to someone who just learned about multi-family properties yesterday.

You want someone who has been in the game for a long time, who has seen it all and done it all. Someone who can navigate any market condition and deliver consistent results.

And at KRI Partners, we have a team of experts who have managed over 16,000 units over more than two decades. In other words, we know what works and what doesn't work in multi-family real estate investing.
Rule #2: They Must Have a Long Track Record of Success
Okay, so they say they have experience…

But how do you know they're telling the truth?

How do you know they're not just making up numbers or cherry-picking their best deals?

Well, there's only one way to find out: ask for their track record.

A track record is a history of their past performance on their previous deals. It shows you how much they invested, how much they returned, how long it took them to exit, etc. It sort of acts as a resume for an investment firm by showing you their skills, achievements, and credibility.

But be careful: not all track records are created equal. Some firms might try to hide or manipulate their numbers or use interesting accounting practices to "manage" their returns.

That's why at KRI Partners, we are fully transparent about our track record. You can check out our past deals here and see for yourself how we have delivered up to 30%+ annual returns to our investors on 18 deals worth $125 million in total.
Rule #3: They Have To Put You (The Investor) First
This is where things get tricky. Because some firms might have experience and a good track record but still if you look carefully, the terms of their investments might be very "investor friendly".

How?

By charging hidden fees or taking unfair cuts of your profits or putting themselves ahead of you in terms of risk or reward.

You see, some firms might lure you in with low management fees but then hit you HARD with other charges later on that eat into your returns.

Or they might take a huge chunk of your profits as bonuses even if they didn't perform well or meet their targets…

…Heck, sometimes they may even structure the deal in such a way that they get paid first before you do or that they get more upside than downside compared to you.

These are all red flags that indicate that the firm might not be putting you first as an investor and I take issue with that.

Fortunately, we always put our investors first by:
✅ Charging reasonable fees that cover our costs but don't compromise your returns.
✅ Only taking performance-based bonuses after we meet certain thresholds.
✅ Aligning our interests with yours by co-investing alongside you on every deal so that we share both the risks and rewards.
✅ Treating our investors like partners because — at the end of the day — that's what they are!
Rule #4: They Have To Be 100% Transparent at All Times
Last but not least, communication is key when it comes to passive real estate investing. You don't want to invest with someone who disappears after taking your money, never answers your calls and emails, or gives vague or evasive answers when asking for updates on your investment.

Picture this: you've got that one friend who takes to get back to you. You text them on a Monday morning, and you don't hear back until Friday with some lame excuse like:

"I lost my phone in the Bermuda Triangle, and I just got a new one."

LOL…Like, seriously, what the heck?!

Now, imagine investing more than $100,000 in a property, and the person handling your investment is just as flaky as that friend. No way, Jose! If you're going to shell out a small fortune, you deserve absolute transparency and responsiveness.

Think of it this way: investing in a property without clear and honest communication is like buying a fancy sports car only to find out that it's missing an engine. It's a total letdown.

That's why it's absolutely critical to have open lines of communication with someone who knows the property inside and out; they should be prepared to answer any and all questions you have about your investment throughout the year.

And let's not forget about regular updates! Your chosen firm should provide at least quarterly investor updates, including financial statements, balance sheets, P&L statements, rent rolls, and updates on any renovation progress.

Bottom line: transparency is key, and you deserve nothing less. Don't settle for anything less than the full scoop when it comes to your investment.
To learn more about how multi-family real estate investing can increase your investment portfolio as a passive investor, click here to listen to the full Global Investor podcast!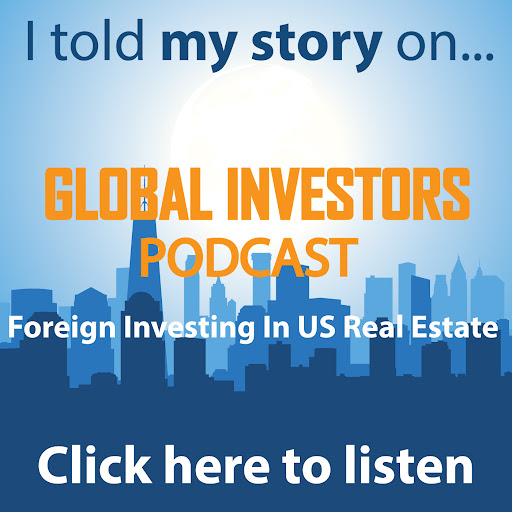 Disclaimer: This is not an offer to buy or sell any security.
All investments involve risk and may result in partial or total loss. Past performance is not indicative of future results. Any historical returns, expected returns, or probability projections may not reflect actual future performance. Prospective investors should carefully consider their investment objectives, risks, charges and expenses, and should consult with a tax, legal and/or financial adviser before making any investment decision.